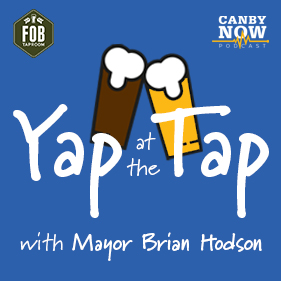 In today's episode we stop by the FOB Taproom to grab a beer with Mayor Brian Hodson as we talk about, well, beer, specifically Canby Brewing Co. And the newly approved Project Shakespeare. He'll shed some light on what happens behind the scenes in terms of vetting new developments to see if they're a good fit for Canby. long story short: it's basically the Bachelor without the roses.
And, we catch up with Lisa Sellars, new intern for 99.5 The Wolf. Don't  worry: video won't kill this radio star, because we just talked to her by phone. So, you know, no video involved. She recently won the chance to work for the Mike & Amy show and She'll tell us what it's like.
Music in this episode: https://canbynowpod.com/music-credits
Icons made by Freepik from www.flaticon.com is licensed by CC 3.0 BY.