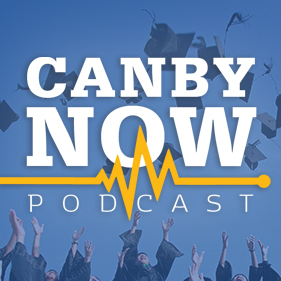 News and More: A city of Canby employee who worked at the civic building has tested positive for the novel coronavirus. The town's newest naturopath recently helped supervise clinical trials of an experimental treatment for Covid-19. Canby High School celebrates its senior and multi-sport athletes.
Canby Conversation: Canby High School Principal Greg Dinse joins to talk about the challenges of celebrating a class of 400 at a time when gatherings larger than 10 have been banned. We were a little disappointed he didn't bring the bagpipes, but we'll get over it.
After the Break: "Advice, like youth, probably just wasted on the young," or so they say. Well, we're not about to let that stop us. 
This Week's Sponsors: Odd Moe's Pizza, Canby Liquor Store, Reif & Hunsaker P.C., DirectLink, Advantage Mortgage, Wild Hare Saloon
Music in this episode: https://canbynowpod.com/music-credits/
Please support our show! To listen without ads, and ensure we can continue to bring you important news and amazing stories you can't get anywhere else, join Canby Now Plus today! For details, visit patreon.com/canbynowpod.