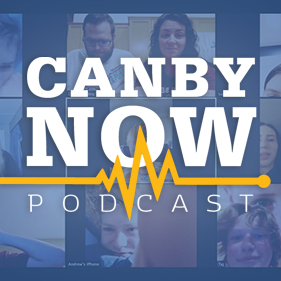 News and More: Willamette Egg Farms and its parent company donated and delivered 65,000 pounds of food this past week to organizations in Canby, Molalla and Woodburn. Talk about some good eggs! The Summer of Corona has claimed two more victims, with the cancellation of two more major events at the Clackamas County Fairgrounds.
Canby Conversation: What does church look like when all the churches are empty? In some ways, it's better than ever, according to Pastor Jeff Jennings, of Canby Bethany Church. One of his concerns has been people's emotional health amid isolation, which was the inspiration behind the church's new Facebook Live Q&A series, Comfort for the Quarantined.
After the Break: Pastor Tim Davis, of Christ the King Community Church, is a germaphobe who can't wait to hug everybody. He tells us about his own experiences doing church from his living room, including the rise of the online greeters. Finally, we document what it's like being a teacher in the COVID era.
This Week's Sponsors: Odd Moe's Pizza, Canby Liquor Store, Reif & Hunsaker P.C., DirectLink, Advantage Mortgage, Wild Hare Saloon
Music in this episode: https://canbynowpod.com/music-credits/
Please support our show! To listen without ads, and ensure we can continue to bring you important news and amazing stories you can't get anywhere else, join Canby Now Plus today! For details, visit patreon.com/canbynowpod.