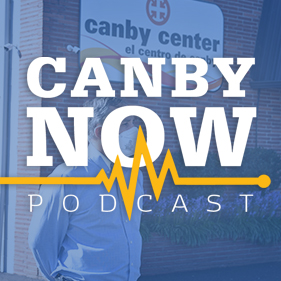 News and More: Oregon will reopen, but it won't happen as quickly as you want. The good news is that social distancing is working here in Canby, and not a single first responder has tested positive for the virus. Canby is moving forward with its search for a new city administrator. And, believe it or not, Oregon liquor stores reported record sales in March.
Canby Conversation: In a time of great uncertainty and economic strain, many folks are in need of two things: food and dignity. The Canby Center strives to provide both, and is part of a critical safety net for the area's most vulnerable. Executive Director Ray Keen tells the story of how his little nonprofit quickly transformed into a highly efficient machine dedicated to one goal: Keeping Canby fed.
After the Break: Canby Farmers Market Director Alexis Purcell shares changes in store for this year's market, including a drive-through service from 8-10 a.m. And on Canby Then, stories from the last time Canby suffered the impacts of a global pandemic, during the deadly outbreak of Spanish flu in 1918.
This Week's Sponsors: Canby Foursquare Church, Health Markets, DirectLink, Advantage Mortgage, Wild Hare Saloon, The Book Nook
Music in this episode: https://canbynowpod.com/music-credits/
Please support our show! To listen without ads, and ensure we can continue to bring you important news and amazing stories you can't get anywhere else, join Canby Now Plus today! For details, visit patreon.com/canbynowpod.