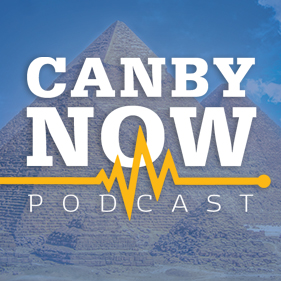 News and More: Clackamas County has approved a significant tax break for Columbia Distributing, but the city council must also sign off for it to move forward. The coronavirus has forced Gwynn's Coffeehouse to close its doors. Nancy Lematta, former chair of Aurora's Columbia Distributing, has donated $2 million to the Providence health system's fight against COVID-19.
Canby Conversation: "Do you have a cowboy hat, Mr. Tony?" Indeed, Tony Crawford does. The longtime Canby schoolteacher is currently living far away from Canby, but his beloved town is not far from his heart. Today, on the Canby Now Podcast: "Mr. Tony" calls in from Cairo, Egypt.
After the Break: A heroic St. Bernard and a bonfire of the pornography: We're continuing our look back at some of our favorite stories from the history of the Canby Fire District, on Canby Then. 
This Week's Sponsors: Canby Foursquare Church, Health Markets, DirectLink, Advantage Mortgage, Wild Hare Saloon, Retro Revival
Music in this episode: https://canbynowpod.com/music-credits/
Please support our show! To listen without ads, and ensure we can continue to bring you important news and amazing stories you can't get anywhere else, join Canby Now Plus today! For details, visit patreon.com/canbynowpod.