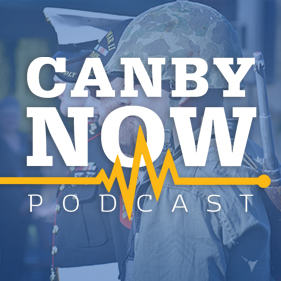 News and More: Parents are about to get some more quality time with their kids: Schools are closed until at least April 28. Mayor Brian Hodson has officially declared a state of emergency in Canby. Restaurants are take-out only for a month; bars are closed. A Canby High schooler reflects on a senior year that is ending very differently than she expected.
Canby Conversation: Canby is one of the only communities in the country with an annual ceremony honoring one battle of a particular war: the annual Iwo Jima Remembrance Ceremony and Flag Raising. Martin Lackner, commander of the Canby/Aurora VFW Post 6057, explains why the battle on the black sands must never be forgotten. (Editor's note: This interview was recorded at Gwynn's Coffeehouse a couple weeks ago, when Gwynn's was still open for sit-in dining, and life was a little less crazy.)
After the Break: This week, Francke went on Facebook and asked Canby a simple question: "How are you holding up?" This is what Canby said. This is Canby Then, in the making. This is an oral history of Canby in the midst of the COVID crisis.
This Week's Sponsors: Canby Foursquare Church, Health Markets, DirectLink, Advantage Mortgage, Wild Hare Saloon, The Book Nook
Music in this episode: https://canbynowpod.com/music-credits/
Please support our show! To listen without ads, and ensure we can continue to bring you important news and amazing stories you can't get anywhere else, join Canby Now Plus today! For details, visit patreon.com/canbynowpod.