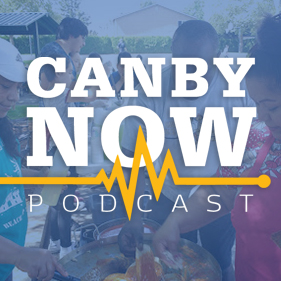 News and More: Should the city sign off on a significant tax abatement for one of the state's largest companies — even if they didn't follow all the rules of the program? What would happen if they say no? Councilors framed the debate at a recent work session. And, Peter Hostetler, president of a company providing parts, service and sales of excavators, wheel loaders and other construction equipment, tells us about their new "digs" on Highway 99E.
Canby Conversation: Bridging Cultures Canby began 20 years ago by making and handing out bag lunches to neighbors each week in the apartment buildings on Cedar and Locust Street. It's now a nonprofit that has hosted thousands of meals and community events with the goal of building relationships across cultural and economic boundaries. Find out more about this amazing group on today's episode and at their annual fundraising dinner this weekend.
After the Break: Andrea, a local resident who is part of Bridging Cultures Canby along with her three children, tells us what her experience has been like as a non-native English speaker in Canby, and how the group has helped her and her family adapt and thrive. And, we look back at some of our favorite stories from the history of the Canby Fire District, on Canby Then. 
This Week's Sponsors: Canby Foursquare Church, Health Markets, DirectLink, Advantage Mortgage, Wild Hare Saloon, Retro Revival
Music in this episode: https://canbynowpod.com/music-credits/
Please support our show! To listen without ads, and ensure we can continue to bring you important news and amazing stories you can't get anywhere else, join Canby Now Plus today! For details, visit patreon.com/canbynowpod.