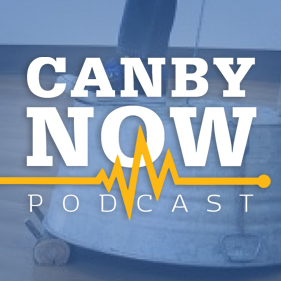 News and More: The Canby City Council discusses the fireworks displays at high school football games. (Again.) Mayor Brian Hodson denies the request for a Transgender Day of Visibility. (...Again.) And, Oregon Gov. Kate Brown has joined nine other states in declaring a state of emergency over COVID-19. 
Canby Conversation: Jazz musicians around the world are paying tribute this year to the great Dave Brubeck, a visionary who helped revolutionize the nascent jazz scene in the 1950s and 60s. That includes our favorite local jazz pianist, Ray Hardiman, who will present his own tribute to the bespectacled icon at the Canby Pioneer Chapel on April 18. Tickets.
After the Break: Muralist Mario De Leon tells us about his latest public art project, which is transforming the city-owned former library building and bringing a little more color to our "harcore beige" downtown. Also, a new event is bringing the Roaring Twenties to Canby.
This Week's Sponsors: Odd Moe's Pizza, Canby Liquor Store, Reif & Hunsaker P.C., DirectLink, Advantage Mortgage, Wild Hare Saloon
Music in this episode: https://canbynowpod.com/music-credits/
Please support our show! To listen without ads, and ensure we can continue to bring you important news and amazing stories you can't get anywhere else, join Canby Now Plus today! For details, visit patreon.com/canbynowpod.