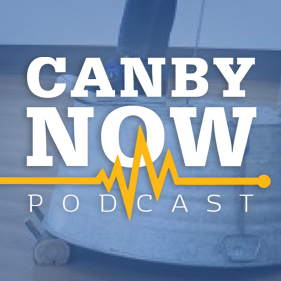 News and More: Even with the significant tax abatement proposed for Columbia Distributing's new Canby facility, the property would still be the city's largest property taxpayer. Update on the story you may already be sick of (too soon?): the local response to the coronavirus outbreak. After a productive discussion, Portland Mountain Rescue is poised to become a distinct unit of the new search and rescue group the county sheriff envisions.
Canby Conversation: Canby Economic Development and Tourism Coodinator Calvin LeSueur and his faithful dog, Jagua, joins to preview the new Friends of the Library Concert Series, the first of which is on tap tonight. Since we're a podcast and all, we sample some of the sounds of the amazing groups who will be bringing their unique sounds to Canby.
After the Break: Canby High School running back and wrestler K'Den McMullin had high hopes for his senior athletic career. Then, absolutely nothing went to plan. Don't miss this remarkable story of disappointment, perseverance and overcoming unbelievable odds. And on, Canby Then, a special guest: the great-great-granddaughter of Canby founder Philander Lee.
This Week's Sponsors: Canby Foursquare Church, Health Markets, DirectLink, Advantage Mortgage, Wild Hare Saloon, The Book Nook
Music in this episode: https://canbynowpod.com/music-credits/
Please support our show! To listen without ads, and ensure we can continue to bring you important news and amazing stories you can't get anywhere else, join Canby Now Plus today! For details, visit patreon.com/canbynowpod.