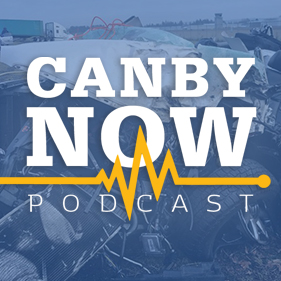 News and More: The novel coronavirus has finally come to Oregon. ...We're pretty sure. Voters will decide a 20-year, $75 million Canby School District bond in the May primary election. Canby residents will have the chance to learn about drinking water quality issues — and voice their concerns — at an upcoming public meeting.
Canby Conversation: It seems we can't go a week without the news of yet another horrific crash happening in our backyard. But why are they happening? Can we do anything to prevent them? And what of the impact on first responders, who see these grisly scenes up close, in a way that we never do? We discuss these questions and more with our friends at the Aurora Fire District.
After the Break: AFD demos some of the unbelievably powerful tools they use to save lives in a crash situation. We realize the wow factor is...somewhat reduced in a purely audio format. See our website and Facebook page for photos and video, including Francke giving it the old college try.
This Week's Sponsors: Odd Moe's Pizza, Canby Liquor Store, Reif & Hunsaker P.C., DirectLink, Advantage Mortgage, Wild Hare Saloon
Music in this episode: https://canbynowpod.com/music-credits/
Please support our show! To listen without ads, and ensure we can continue to bring you important news and amazing stories you can't get anywhere else, join Canby Now Plus today! For details, visit patreon.com/canbynowpod.