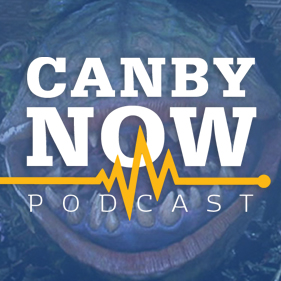 News and More: The Canby Transgender Alliance again requests a proclamation from Mayor Brian Hodson recognizing the International Transgender Day of Visibility. The community observes the 75th anniversary of one of the bloodiest battles of World War II. Canby swimmers compete in the state championships.
Canby Conversation: Canby High School Theater debuts its latest show this week, and it's one that's rooted in a long off-Broadway tradition. It's Canby's first-ever production of the dark comedy classic Little Shop of Horrors! The cast, crew and director join to tell us all about it. Don't feed the plant! Showtimes and ticket info.
After the Break: Lt. Brian Jensen shares some of the highlights of his time as public information officer of the CCSO and explains his recent decision to run for Clackamas County sheriff. And a local exchange student from Thailand is seeking a new host family for the second semester of the school year.
This Week's Sponsors: Odd Moe's Pizza, Canby Liquor Store, Reif & Hunsaker P.C., DirectLink, Advantage Mortgage, Wild Hare Saloon
Music in this episode: https://canbynowpod.com/music-credits/
Please support our show! To listen without ads, and ensure we can continue to bring you important news and amazing stories you can't get anywhere else, join Canby Now Plus today! For details, visit patreon.com/canbynowpod.