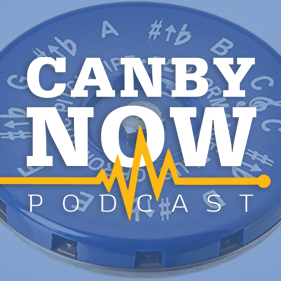 News and More: 5G is coming, and it's going to change everything. Including the Canby Municipal Code and planning regulations. Changes are also coming to the county's search and rescue efforts, as Sheriff Craig Roberts announces a new, unified team. A unique store in neighboring Aurora is closing its doors at the end of the month.
Canby Conversation: Today, we feature the story of the Oregon Trail Pitchpipers, Canby's a cappella singing group dedicated to preserving barbershop-style music. Their history in our community dates back to 1965, but for this year's show, they'll be going back way farther than that: to the founding of the country. Tickets to The Pitchpipers Present: "Songs of America," may be purchased here.
After the Break: The Oregon Trail Pitchpipers treat us to a sampling of their upcoming show on March 14 at the Canby Fine Arts Center. (Who knew "God Bless America" had more than one verse?) And, finally: A mysterious meteor, an immigrant fire chief, an Army surplus Quonset hut. It's history of our beloved Wait Park, on Canby Then. 
This Week's Sponsors: Canby Foursquare Church, Health Markets, DirectLink, Advantage Mortgage, Wild Hare Saloon, Retro Revival
Music in this episode: https://canbynowpod.com/music-credits/
Please support our show! To listen without ads, and ensure we can continue to bring you important news and amazing stories you can't get anywhere else, join Canby Now Plus today! For details, visit patreon.com/canbynowpod.