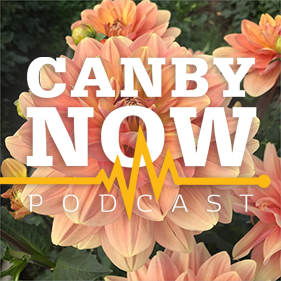 News and More: The chair of the county board of commissioners and sheriff spent their weekend trading words over the state of the county's finances. What about the state of the city of Canby? A bit like an awkward teenager, or so says our mayor. (Hey — could be worse.) Thousands rally to protest cap and trade.
Canby Conversation: Some of the most beautiful dahlias in the world come from right here in Canby. That's not like, just our opinion, man. It's also the opinion of the American Dahlia Society, who recently gave top awards to Canby dahlia cultivators Allen Manuel and Nicholas Gitts, owner of Swan Island Dahlias. Today, Gitts joins to tell us about the process of developing his latest star, "My Forever."
After the Break: Cosplay coming to the Oregon Renaissance Faire this year? Plus, a whole new festival celebrating Celtic music and culture? We're here for it. And, congrats to a Canby couple who just celebrated their 24th anniversary. Send your weddings, birthdays, anniversaries and other news to our Community Board at info@canbynowpod.com.
This Week's Sponsors: Odd Moe's Pizza, Health Markets, Reif & Hunsaker P.C., DirectLink, Advantage Mortgage, Wild Hare Saloon
Music in this episode: https://canbynowpod.com/music-credits/
Please support our show! To listen without ads, and ensure we can continue to bring you important news and amazing stories you can't get anywhere else, join Canby Now Plus today! For details, visit patreon.com/canbynowpod.