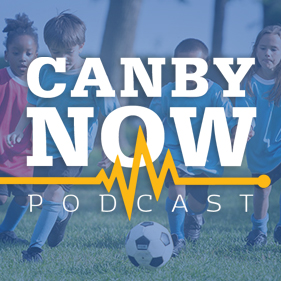 News and More: Columbia Distributing's new facility in the Canby industrial park is not eligible for the strategic investment program, a decision that will cost the company millions over the next 15 years. Or maybe it is! A lot is still up in the air on this important matter, as state and county leaders work toward a solution.
Canby Conversation: Today, we hear the story of Todos Juntos, which was founded in 2000 by Eric Johnston, who was inspired by his work in South America and Africa to start a community-based organization in Clackamas County. Canby's insanely talented, up-and-coming singer/songwriter Aly Whelchel says, "Hello."
After the Break: We catch up with Sean Wiese, the talented southpaw who holds Canby's single-season strikeout record (73), and is about to start his first season as a relief pitcher for the George Fox Bruins. Finally, we wrap up the life and times of Oregon Supreme Court Chief Justice Aaron Wait on Canby Then.
This Week's Sponsors: Canby Foursquare Church, DirectLink, Advantage Mortgage, Wild Hare Saloon, Retro Revival
Please support our show! To listen without ads, and ensure we can continue to bring you important news and amazing stories you can't get anywhere else, join Canby Now Plus today! For details, visit patreon.com/canbynowpod.
Music in this Episode: https://canbynowpod.com/music-credits/