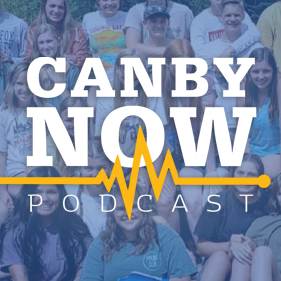 News and More: Stanton Furniture's new 170,000-square-foot warehouse facility has been approved for the Canby Industrial Park. Meanwhile, an application for a strategic investment program from their new neighbor, Columbia Distributing, is under review. Canby Fire recognizes two civilians for saving a life. 
Canby Conversation: "Turn it up, Canby!" Those words from Nick Coleman, area director for Canby Young Life, who loves it when his group is the loudest one at camp. He gives us his insights on some of the challenges facing local youth — and some of the joys of getting to work with them.
After the Break: We hear the story behind Koz Water, a new company that wants to change the world — starting right here at Cutsforth's Market in Canby. The Canby Knights of Columbus raise $25,000 for a local couple whose infant daughter needs a heart transplant at their annual Charity Auction & Crab Dinner
This Week's Sponsors: Odd Moe's Pizza, Health Markets, Reif & Hunsaker P.C., DirectLink, Advantage Mortgage, Wild Hare Saloon
Music in this episode: https://canbynowpod.com/music-credits/
Please support our show! To listen without ads, and ensure we can continue to bring you important news and amazing stories you can't get anywhere else, join Canby Now Plus today! For details, visit patreon.com/canbynowpod.