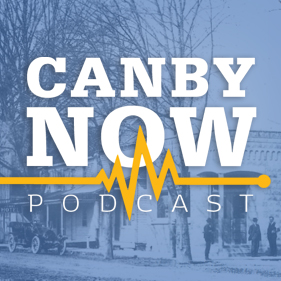 News and More: The Canby School District has a new timeline for public involvement in developing the $75 million bond proposal that may be placed on the ballot for May. An Oregon City teen was killed in a single-vehicle crash near Beavercreek Wednesday. A Canby couple has a vision for a shelter to serve women veterans and their children impacted by sexual and domestic violence.
Canby Conversation: "What is the story of Canby?" Katie Pratt, of the historical preservation firm Northwest Vernacular, says that is the most common question she has heard in surveying local residents on their views about our town's history and heritage. She tells us why history is important to a small town, and how city leaders might use her work to preserve Canby's story for generations to come.
After the Break: Canby Area Chamber Director Kyle Lang gives us a preview of the upcoming chamber gala, which looks to be a groovy good time. And, on Canby Then, we begin our series on Canby's park history with a look back at the incredible life and times of Aaron E. Wait, the state's first Supreme Court chief justice and namesake of our beloved Wait Park.
This Week's Sponsors: Canby Foursquare Church, DirectLink, Advantage Mortgage, Wild Hare Saloon, Retro Revival
Music in this Episode: https://canbynowpod.com/music-credits/
Please support our show! To listen without ads, and ensure we can continue to bring you important news and amazing stories you can't get anywhere else, join Canby Now Plus today! For details, visit patreon.com/canbynowpod.