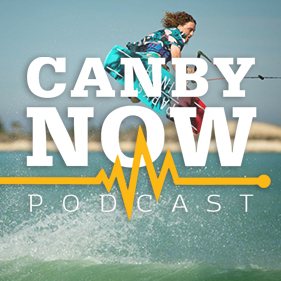 News and More: The victim in the suspected drunken driving crash near Aurora State Airport last week was a longtime Portland comic and more. The county will ask Canby and ODOT for funding support of the Canby Ferry. Volleyball standout Ruby Kayser is Canby High School's first-ever female Royal Cougar.
Canby Conversation: This week, the story of the newest company to come online in the Canby industrial park. It's Active Water Sports, and believe us when we say they are looking to make a big splash. General Manager Dan Lay shares about his company, its remarkable history and their sparkling new storage facility and showroom in Canby.
After the Break: Shantel Harney, president of Canby Kids Inc., tells us about this wonderful nonprofit that provides sports opportunities for hundreds of local kids every year, and the poker tournament "fun-raiser" planned for this Saturday. The grand prize is 1,000 big ones, and no: We're not bluffing. Tickets here.
This Week's Sponsors: Odd Moe's Pizza, DirectLink, Advantage Mortgage, Wild Hare Saloon
Music in this episode: https://canbynowpod.com/music-credits/
Please support our show! To listen without ads, and ensure we can continue to bring you important news and amazing stories you can't get anywhere else, join Canby Now Plus today! For details, visit patreon.com/canbynowpod.