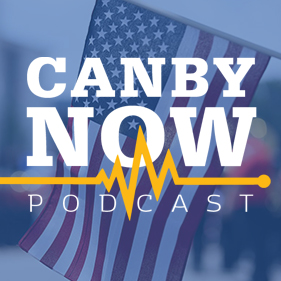 News and More: Lone Elder Pizza was robbed at gunpoint shortly after closing this weekend. More clarity has come in the recent tragedy on the Oregon Coast. A former civilian manager at Camp Withycombe owes the U.S. Army more than $2.5 million in restitution after pleading guilty to fraudulent claims. 
Canby Conversation: Linda Tate and Charity Payne join to talk about the Honor Flight Program, which provides free trips to our nation's veterans to ensure they get to see the monuments in Washington, D.C., that are dedicated to their service and sacrifice. Also, a memorable homecoming for a WWII vet in Canby's recent history.
After the Break: Do the Canby Cougars need any more spirit? They did just take down the No. 1 team in the state, after all. Coach Craig Evans tells us about the upcoming Spirit Week festivities anyway, along with his squad's big upset. And on Canby Then, a small country church, a family farm and the project that brought them together: the story of Hope Village.
This Week's Sponsors: Canby Foursquare Church, DirectLink, Advantage Mortgage, Wild Hare Saloon, Retro Revival
Music in this Episode: https://canbynowpod.com/music-credits/
Please support our show! To listen without ads, and ensure we can continue to bring you important news and amazing stories you can't get anywhere else, join Canby Now Plus today! For details, visit patreon.com/canbynowpod.