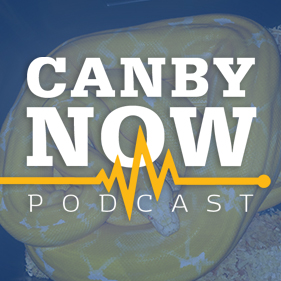 News and More: Plastic grocery bags are now banned in Oregon, and some people are real unhappy about it. Head boys basketball coach Craig Evans recaps the wild ending to Friday night's game. Damn, Canby. You look good for 150. 
Canby Conversation: This summer, we thought we saw a guy leave a grocery store in Canby with a 14-foot-long snake around his neck. Turns out, that's exactly what we saw. His name is Micah Westgate, and he has embraced his reputation as the Canby Snake Guy.
After the Break: More fun and games with the Canby Snake Guy and his pets, in this two-part, extended interview. Plus, we roll our a new segment, the Canby Now Community Board!
This Week's Sponsors: Odd Moe's Pizza, DirectLink, Advantage Mortgage, Wild Hare Saloon, 
Music in this episode: https://canbynowpod.com/music-credits/
Please support our show! To listen without ads, and ensure we can continue to bring you important news and amazing stories you can't get anywhere else, join Canby Now Plus today! For details, visit patreon.com/canbynowpod.