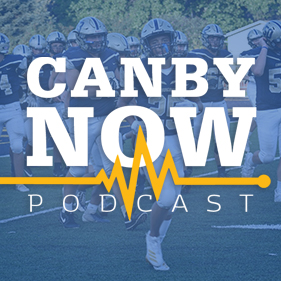 News and More: The Canby School Board's opinions are divided over cellphone use in high school classrooms. The district's list of most critical facilities projects add up to about $35 million. Almost 140 jobs in Canby have been preserved, thanks to the state of Oregon's successful retention of ICC Northwest.
Canby Conversation: We're starting the new year by looking back. Don't worry: we look forward, too! We're doing both, with our eye on the Canby Cougar football team, and with the help of head coach Jimmy Joyce and senior captain Bryant Raeburn. Together, we recap the Cougs' up-and-down season, and the surprising move to 5A.
After the Break: Should auld acquaintance be forgot? Cutsforth's Market says farewell to its longest serving employee, Ron Russ, who retired this week after over 44 years of service. At the other end of the spectrum, Canby Music introduces its new repair wizard, Nathan Doty.
This Week's Sponsors: Canby Foursquare Church, DirectLink, Advantage Mortgage, Wild Hare Saloon, Canby Music
Music in this episode: https://canbynowpod.com/music-credits/
Please support our show! To listen without ads, and ensure we can continue to bring you important news and amazing stories you can't get anywhere else, join Canby Now Plus today! For details, visit patreon.com/canbynowpod.