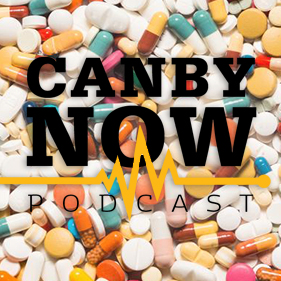 News and More: The Canby School District avoids a possible teachers' strike with this week's news of a compromise over wages and benefits. The embattled Molalla River School Board chair will keep her position. Tofte Farms' sixth and final phase has been approved.
Canby Conversation: "What we've done in America in the last 30 years is made pain an unacceptable experience of the human condition." In our final episode before next week's Christmas special, we learn more about the opioid crisis in our country, where only 5 percent of the world's population consumes 85 percent of the world's opiates. Dr. Andrew Suchocki, a primary care doctor and Clackamas County's medical director, tells us his view of the grim reality, and the path forward.
After the Break: Paul Modesitt, a recovering heroin addict and now an alcohol and drug counselor, brings a message of hope and healing. More of the same on Canby Then, as we bring you two stories of local athletes who overcame impossible odds to reach the pinnacles if their sports.
Resources: OregonPainGuidance.org. For Clackamas County residents, call Dr. Suchocki's team at 503-655-8471. No patients turned away. 
Please support our show! To listen without ads, and ensure we can continue to bring you important news and amazing stories you can't get anywhere else, join Canby Now Plus today! For details, visit patreon.com/canbynowpod.
Music in this episode: https://canbynowpod.com/music-credits/