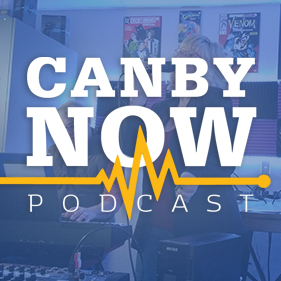 News and More: The design options for the Canby splash pad are out, and some residents think they don't hold water. The final phase of the Tofte Farms subdivision is set to be reviewed by the planning commission. The downtown quiet zone enters its final phase of approval. Meet two of the guys responsible for "Lighting Up the Night" each year.
Canby Conversation: Real-life lounge singers — excuse me, restaurant lounge singers — Rebecca and Ray Hardiman make their first appearance on the Canby Now Podcast to tell us about helping to usher in the digital age of music (sorta) and whether or not jazz is polarizing and to talk all things The Carpenters. After the break, they give us a sampling of their smooth and nostalgic stylings, which are quickly becoming a staple at many local events, from First Thursday to the Cutsforth's Cruise-In.
Please support our show! To listen without ads, and ensure we can continue to bring you important news and amazing stories you can't get anywhere else, join Canby Now Plus today! For details, visit patreon.com/canbynowpod.
Music in this episode: https://canbynowpod.com/music-credits/