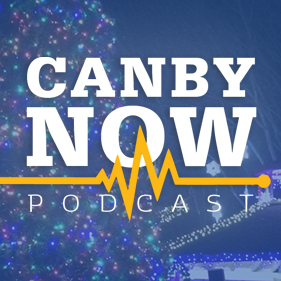 News and More: The man responsible for a drunk driving crash that killed a Molalla mother and four young children will spend his next 34 years in prison. More concerns about Canby's drinking water bubbled over onto social media this week. Hey, gimme five...A! Canby football will play down at 5A in 2020.
Canby Conversation: Calvin LeSueur, the city's Economic Development Tourism Coordinator and Professional Canby Now Podcast Guest, returns to talk about one of the community's favorite annual events: Light Up the Night! The twinklies are coming to downtown Canby this Friday.
After the Break: Friends of the Canby Public Library Chair Joyce Ares tells about the ever-popular Christmas Tour of Homes fundraiser. Support the library, and nose around a bit inside your neighbors' homes — what could be better? Plus, the colorful story of a champion sharpshooter on Canby Then.
Please support our show! To listen without ads, and ensure we can continue to bring you important news and amazing stories you can't get anywhere else, join Canby Now Plus today! For details, visit patreon.com/canbynowpod.
Music in this episode: https://canbynowpod.com/music-credits/