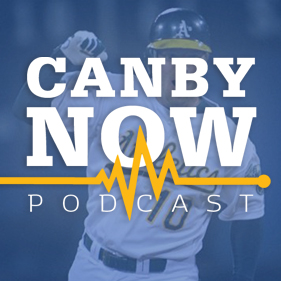 The Molalla River School District community is discussing the role of teachers and parents after the school board passed a controversial proclamation last month. A Canby law firm has again prevailed in their case against Gov. Kate Brown and the Oregon Health Authority on the vaping ban. The city of Aurora is appealing the state's recent decision to approve the Aurora State Airport Master Plan.
It's a real treat on the Canby Conversation today as we host Scott Hatteberg, former Oakland A's catcher and a central character in the best-selling book and film Moneyball. The story you haven't heard is how the future big-league star first tested the baseball waters as a catcher. Believe it or not, it happened right hear in Canby.
Joy Strube takes off her Canby Now hat to share about a new Clackamas County initiative aimed at improving equity in Canby and two other communities. Finally, our long-awaited profile of a 1970s rodeo cowboy, on Canby Then.
Please support our show! To listen without ads, and ensure we can continue to bring you important news and amazing stories you can't get anywhere else, join Canby Now Plus today! For details, visit patreon.com/canbynowpod.
Music in this episode: https://canbynowpod.com/music-credits/