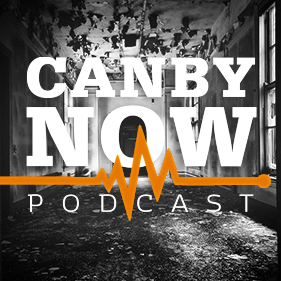 The demonic dog of Fifth Street. The ghostly Volkswagen Beetle. The terror on Goat Mountain. The strange lights in the skies over Canby. The restless spirits that roamed Fairview hospital in Salem. The phone call from beyond the veil.
It's Halloween in Canby, and we're taking a break from the news to bring you something a little...spookier. Hear 20 real-life stories of residents' firsthand experiences with the strange, the paranormal and the unexplained. From Bigfoot to UFOs to good, old-fashioned devil dogs, these are true stories you can't find anywhere else.
Featuring vocal talent from the cast and crew of Canby High School Theatre's production of Almost, Maine, and the Canby Now Podcast team.
Cast (in alphabetical order): Tanner Bedortha, Tyler Clawson, Jon Edelkamp, Ed Grautski, Lee Hepler, Tyler Francke, Josiah Keen, Hannah Ray Lambert, Sarah Link, Hannah Sasek, Joy Strube and James Walton