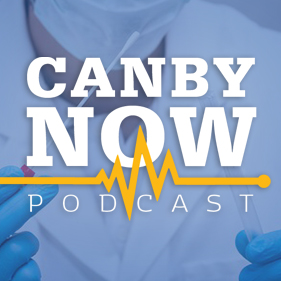 News and More: Canby School District voters have passed a 20-year, $75 million bond measure to repair and improve schools, increase security and upgrade technology. Clackamas County has applied for Phase 1 reopening. An employee at the Safeway grocery store in Molalla has tested positive for Covid-19.
Canby Conversation: Canby has seen 29 confirmed cases of the novel coronavirus, according to the Oregon Health Authority. One of them was Katerina Wert, who shares her experience today. Covid-19 was like a bad case of the flu, she said, which also gave her pneumonia: Definitely something to take seriously, but not something to be afraid of.
After the Break: Today, Canby's modern pump system generates more than 8 million gallons of water per day — and more than 20 million complaints (during the summer months anyway). But, how did it come to be? A look back at the town's waterworks — and the "Father of Irrigation" we have to thank for it, on Canby Then.
This Week's Sponsors: Canby Foursquare Church, Health Markets, DirectLink, Advantage Mortgage, Wild Hare Saloon, Retro Revival
Music in this episode: https://canbynowpod.com/music-credits/
Please support our show! To listen without ads, and ensure we can continue to bring you important news and amazing stories you can't get anywhere else, join Canby Now Plus today! For details, visit patreon.com/canbynowpod.